Kräutervital Refreshing Mask Cucumber-Aquatic Mint | Oily Skin | Type of Skin | Face | Products
Kräutervital
Refreshing Mask Cucumber-Aquatic Mint
without von mineral oil components, silicones und PEGs

vegan
30 ml
Content 30 ml
(Base price 346.67 € / 1l)
Product Code: 507
incl. vat excl. shipping cost
Available for delivery within 1-2 working days
Free shipping from 49.00 € *
Kräutervital Refreshing Mask Cucumber-Aquatic Mint
by Charlotte Meentzen
The light cream mask is a quick beautifier for exhausted and tired skin. Refreshing extracts of cucumber and aquatic mint invigorate the skin and provide additional moisture. The skin is revitalized and looks relaxed and recuperated. Almond butter and sesame oil leave skin soft and supple.
Reviews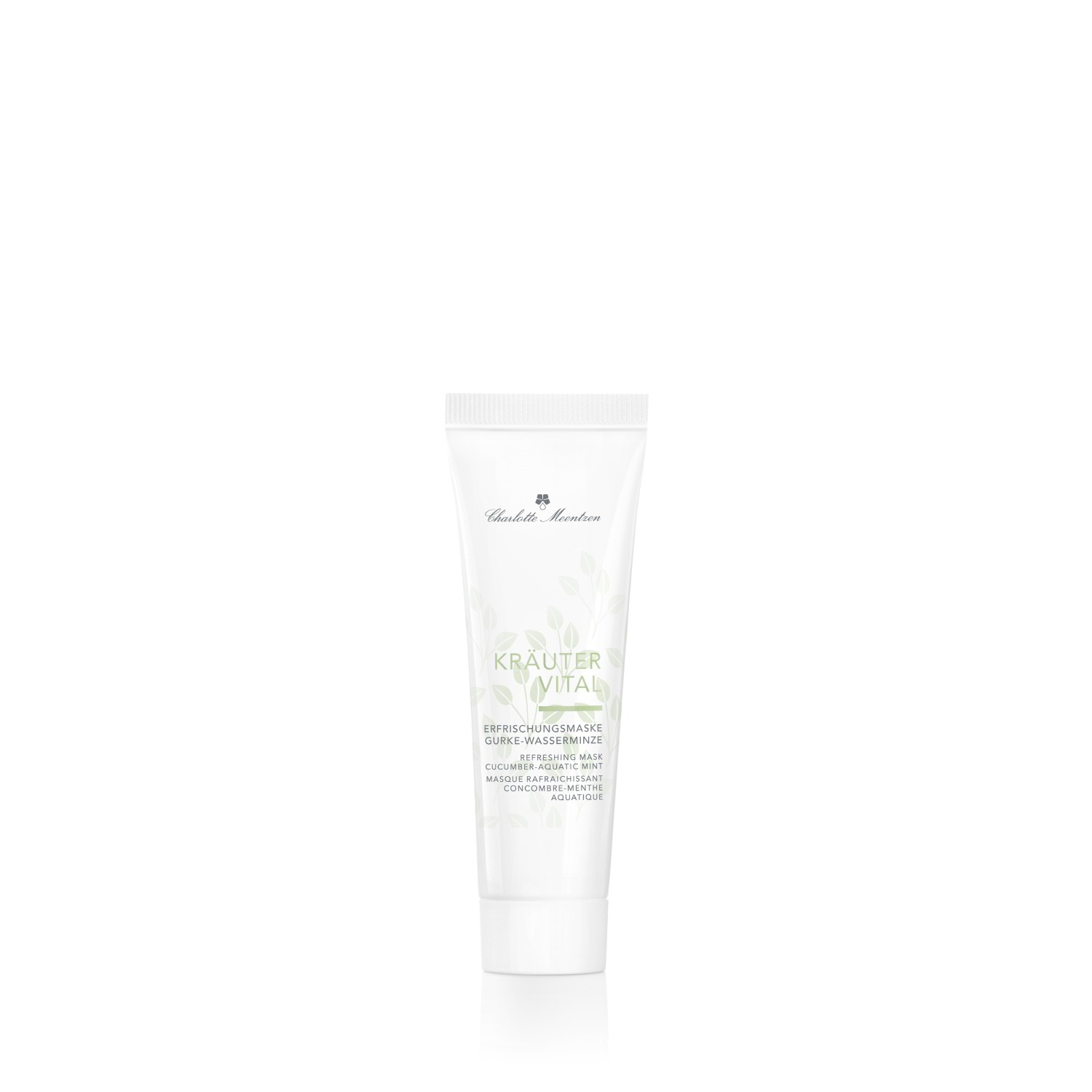 Kräutervital
Refreshing Mask Cucumber-Aquatic Mint
5.0
This product has 5.0 of 5 stars.
We collected 2 reviews.
Sandra T.

Verified Buyer

Reviewed on Dec 3, 2023

Erfrischungsmaske

Usage Duration:

More then 6 Months

Diese Maske benutze ich sehr gerne. Sie erfrischt die Haut, glättet und pflegt wunderbar. Die Masken v Charlotte Meentzen sind auch tolle Geschenke für meine Lieblingsfrauen. Tolle Produkte. Danke dafür.

Katja S.

Verified Buyer

Reviewed on Jun 30, 2023

Sehr erfrischend
We also recommend:
Kräutervital
Cream Peeling
(Base price 248.00 € / 1l)
The mild cream peeling removes dead skin particles. It smoothens rough skin and refines the texture of the skin. Contains extracts of witch hazel and licorice, as well as panthenol and bisabolol.
Kräutervital
Vitamin Day Cream
(Base price 258.00 € / 1l)
New: more sustainable packaging
A moisturizing day cream and make-up base that balances and protects the skin while providing gentle soothing care. Vitamin A and E protect the skin against free radicals and thus against premature ageing.