Silk & Pure Protective Moisturizer SPF 20 | Day Care | Facial Care | Face | Products
Silk & Pure
Protective Moisturizer SPF 20
without von mineral oil components, silicones und PEGs

vegan
50 ml
Content 50 ml
(Base price 598.00 € / 1l)
Product Code: 451
incl. vat excl. shipping cost
Available for delivery within 1-2 working days
Free shipping from 49.00 € *
Silk & Pure Protective Moisturizer SPF 20
by Charlotte Meentzen
Anti-Pollution Formula
Acts like a natural shield against environmental pollution, UV radiation, blue light and free radicals: the vegan silk envelops you like a protective second skin, while peach-blossom extract has an anti-oxidant, revitalising effect. Nourishing kukui nut oil and a natural hydrating complex help maintain a healthy skin structure. Summer lilac offers all-round protection against skin damages caused by natural and artificial light such as blue screen light – for a protected, youthfully fresh skin.

Reviews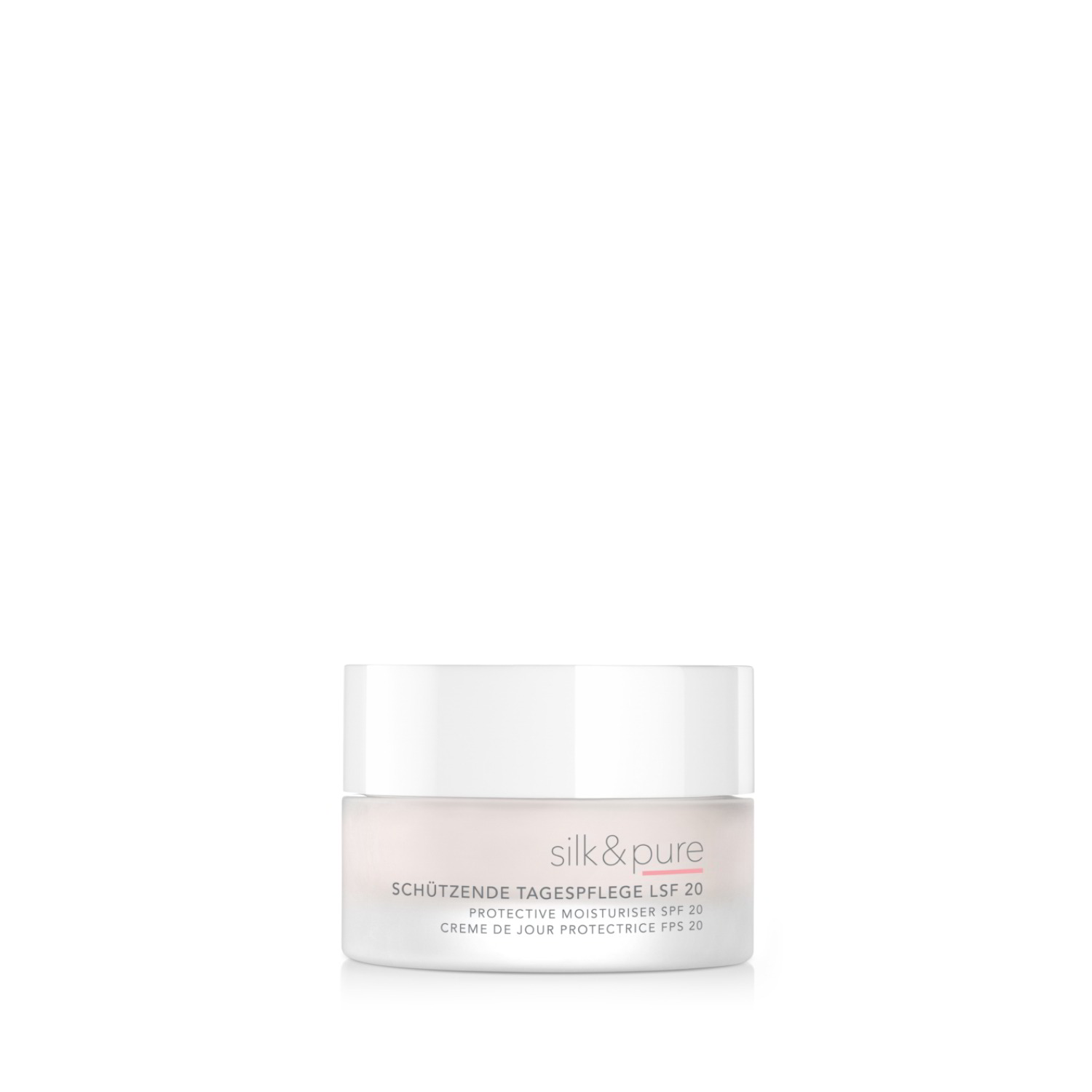 Silk & Pure
Protective Moisturizer SPF 20
5.0
This product has 5.0 of 5 stars.
We collected 2 reviews.
Sandra T.

Verified Buyer

Reviewed on Dec 3, 2023

Tägliche Pflege

Skin Type:

Normal to Combination Skin

Usage Duration:

More then 6 Months

Meine Töchter lieben diese Creme. Sie zieht schnell ein und ist ein toller Begleiter im Alltag. Schützt und pflegt die Haut, sie wollen keine andere Creme mehr.

Manuela S.

Verified Buyer

Reviewed on Sep 27, 2023

Tagespflege

Usage Duration:

More then 6 Months

Sehr angenehme Tagescreme, zieht schnell ein und inkl. Lichtschutzfaktor. Nutze die Creme schon mindestens 2 Jahre und bin immer noch zufrieden.
We also recommend:
Silk & Pure
Good Night Sorbet Cream
(Base price 618.00 € / 1l)
Anti-Pollution Formula
This light, airy cream sorbet helps your skin recover from environmental stress overnight: Peach-blossom extract reduces the oxidative stress caused by free radicals and fine dust and makes skin cells more resistant. The innovative Hyalu-Cage
System® forms a three-dimensional network on the skin which acts both as a source of lasting moisture and a protective layer. Plant-based taurine acts as an energy booster and increases cell activity in the skin; signs of tiredness disappear – for a
radiant complexion the next morning.