Meentzen for Men | Product Advice
SKINCARE WITH THE PURE POWER OF RESISTANCE
Nature is an expert at protecting itself against external environmental factors. The new Meentzen for Men care range uses the concentrated power of natural extracts. An effective active formula provides extra mild skincare and is therefore also suitable for sensitive male skin.

ACTIVE INGREDIENTS:
Meentzen for Men is a men's skincare range inspired by nature itself. Extracts of Wild Indigo have a stimulating effect and strengthen the skin's natural resistance. The prickly pear is a natural moisturizer that calms irritated skin.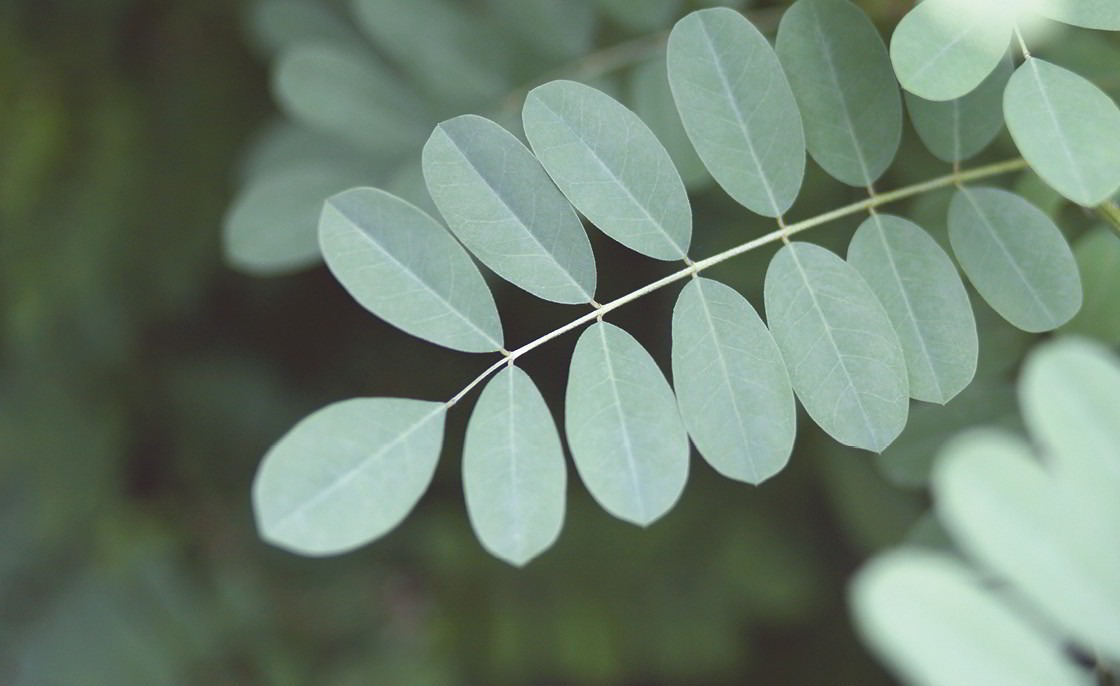 EFFECT:
The Meentzen for Men care range is an energy kick for your skin. An activating mineral complex increases the skin's power of resistance, provides valuable moisture and soothing care for stressed skin cells.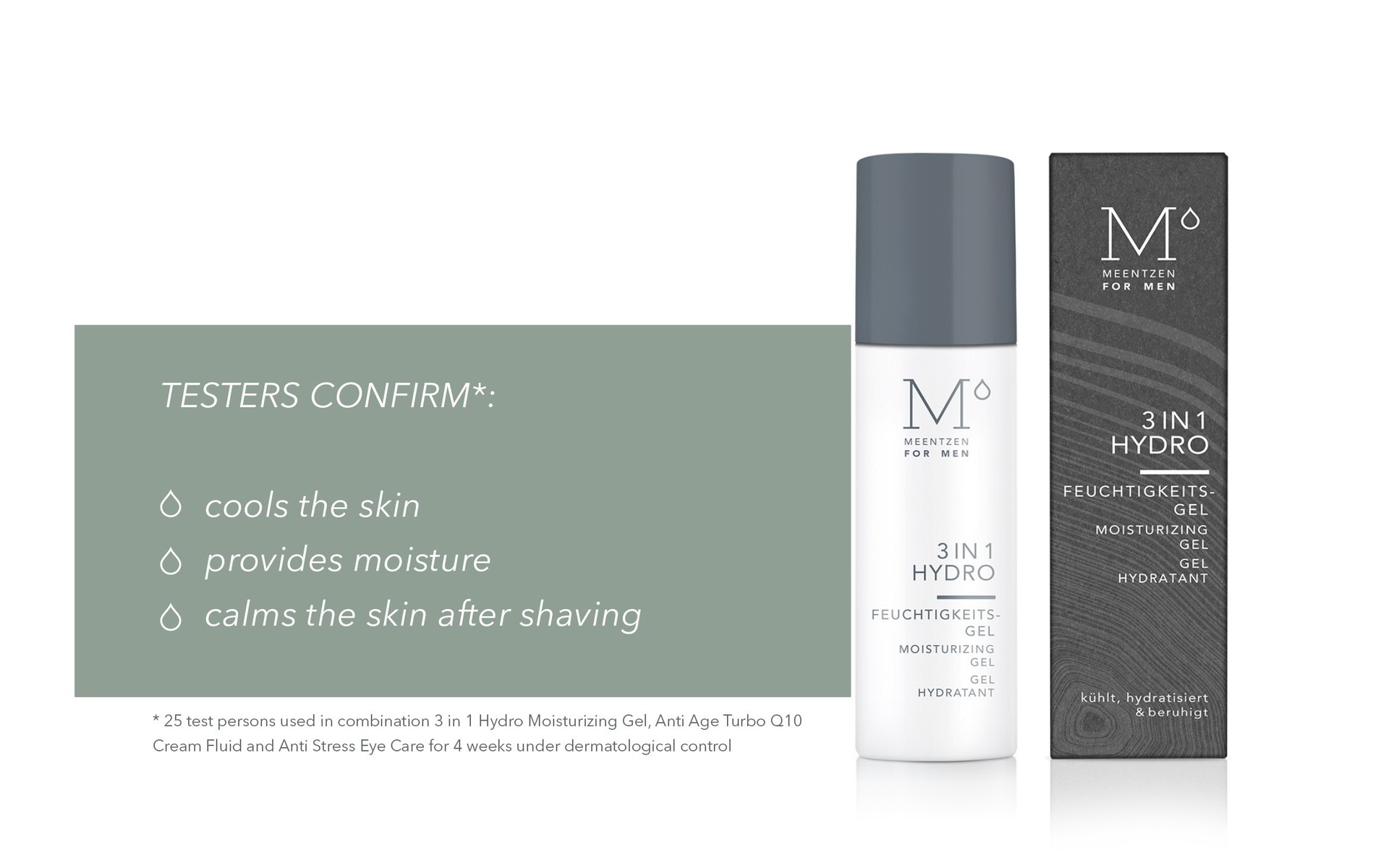 MEENTZEN FOR MEN 3 in 1 Hydro Moisturizing Gel
Multitasking for demanding male skin: Moisturizing care, cooling mask and soothing aftershave all in one. With wild indigo, calming liquorice root and an activating mineral complex it increases the skin's resistance. Cactus pear and cross-linked hyaluron provide valuable moisture and soothing relaxation for stressed skin cells.

MEENTZEN FOR MEN Anti Age Turbo Q10 Cream Fluid
Nurtures, invigorates, smoothes and firms – the daily Turbo-Kick. The Q10 Cream Fluid provides new energy and rebuilds the skin cells' natural network. With effective Matrixyl® – for smooth and resilient skin. Lines and wrinkles are noticeably reduced and the moisture depot is refilled.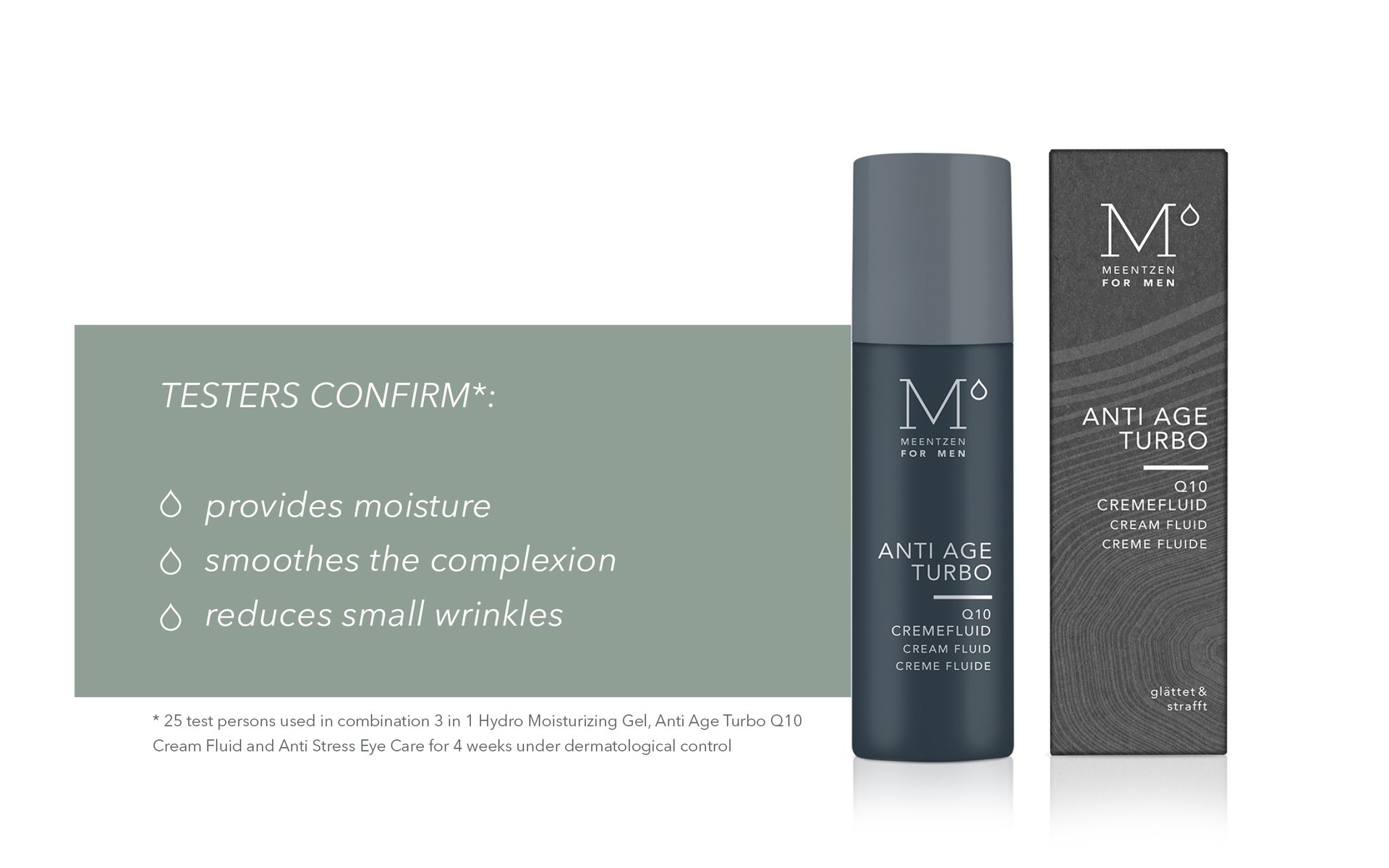 MEENTZEN FOR MEN Anti Stress Eye Care
Our eyes are an unmistakable indicator of our general physical condition. They immediately reflect stress and lack of sleep. With the Anti-Stress Eye Care the first signs of fatigue, like dark circles and bags under the eyes, are quickly mitigated. Light-reflecting pigments leave skin looking fresh and recuperated. Botanical taurine acts as an energy booster and increases cell activity, hyaluronan and Pentavitin® provide moisture, Q10, cactus pear and wild indigo awake tired eyes and leave them looking radiant again.

MEENTZEN FOR MEN 2 in 1 Body & Hair Wash Shower Gel
Cleansing and vitalizing shower gel for daily use. Thanks to the practical 2-in-1 effect the shower gel not only deep cleanses and cares for the skin – but also the hair. The well-balanced composition with panthenol and prebiotic inulin prevents the skin from drying out and inhibits irritations. The texture is refreshing with an appealing masculine fragrance.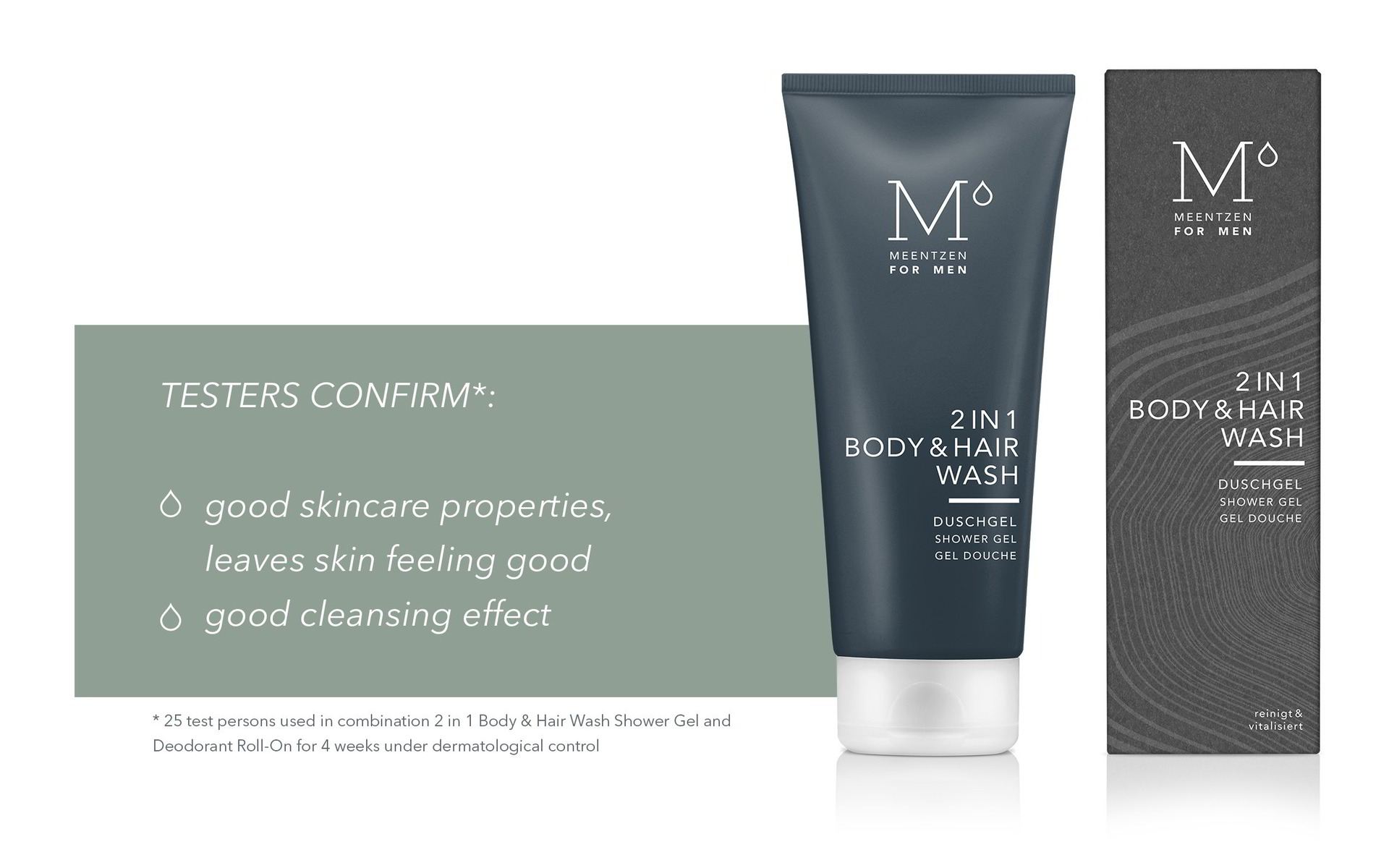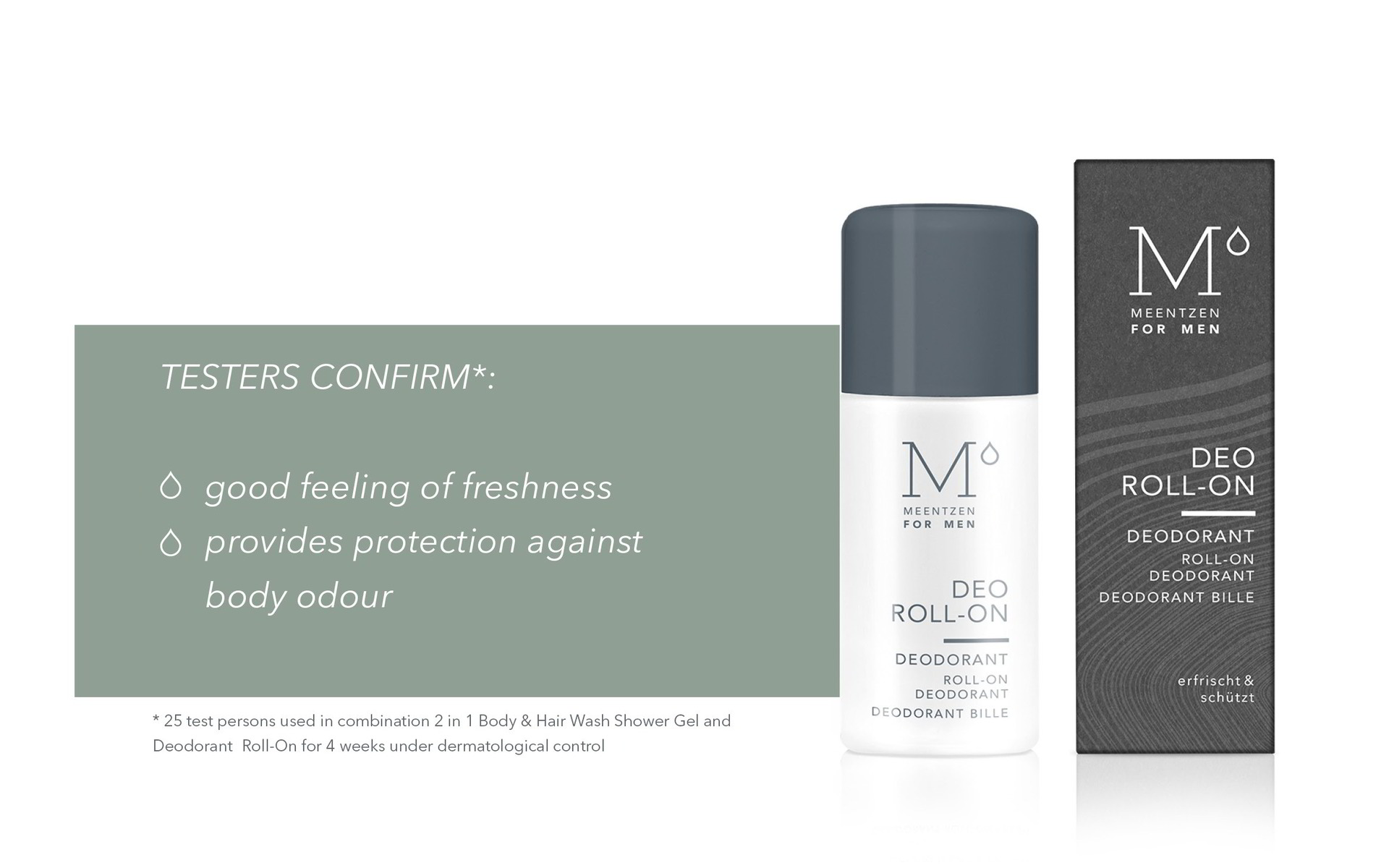 MEENTZEN FOR MEN Deodorant Roll-On
This care product packs a punch. The natural enzymes produced by fermentation technology neutralize body odour and provide reliable protection all day long. The result is a long-lasting feeling of freshness and an appealing fragrance with a light spicy orange note. The mild formula without aluminium ensures optimal skin compatibility, according to the motto: deodorant roll on – daily stress off.

MEENTZEN FOR MEN 24h Hydro Moisturizing Cream
Perfectly geared to the needs of male skin this care cream improves the skin's natural resistance and makes it resilient to external influences. The formula with wild indigo, cactus pear, pentavitin and vitamin E is quickly absorbed and, thanks to cellulose, ensures a matte finish. The moisture depot is well replenished leaving the skin looking radiantly fresh and sporty.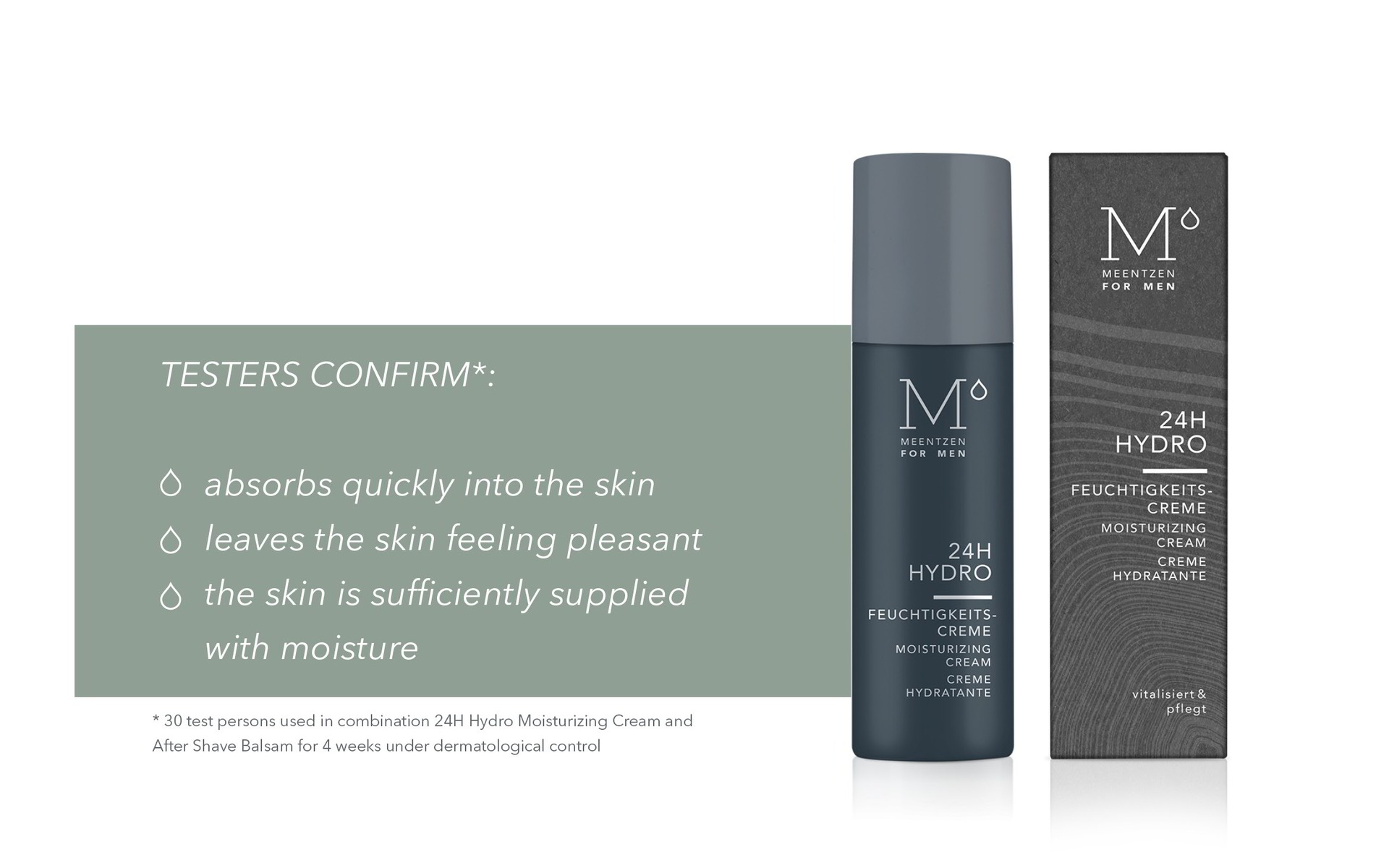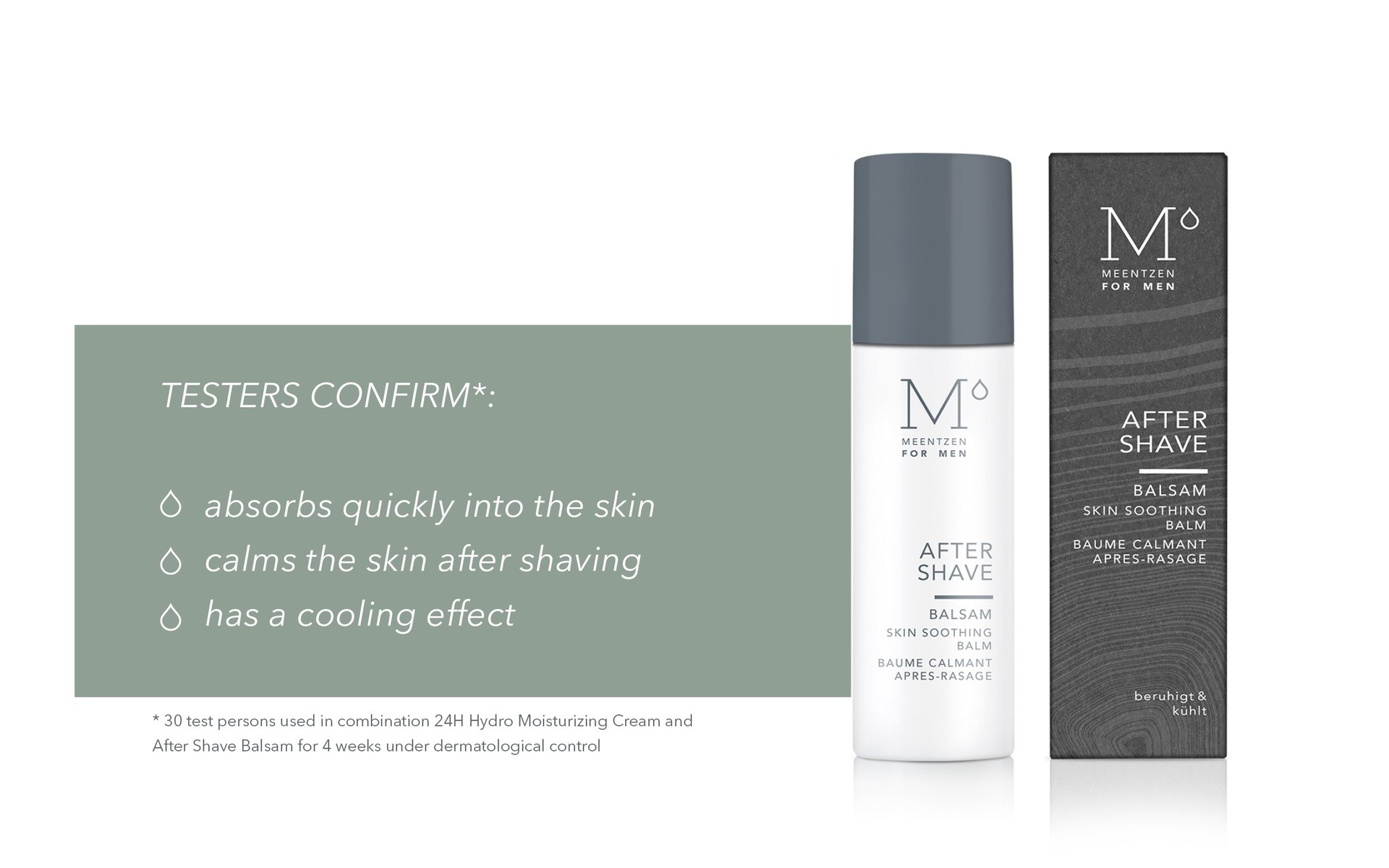 MEENTZEN FOR MEN After Shave Balsam
A mild aftershave balm with wild indigo, cactus pear and panthenol. Calms and cools the skin after shaving, alleviates redness and iritated skin. Reinforces the natural skin barrier, while the spicy-woody fragrance stimulates the senses. Invigorating and vitalizing. Thanks to Provitamin B5 also suitable for sensitive skin.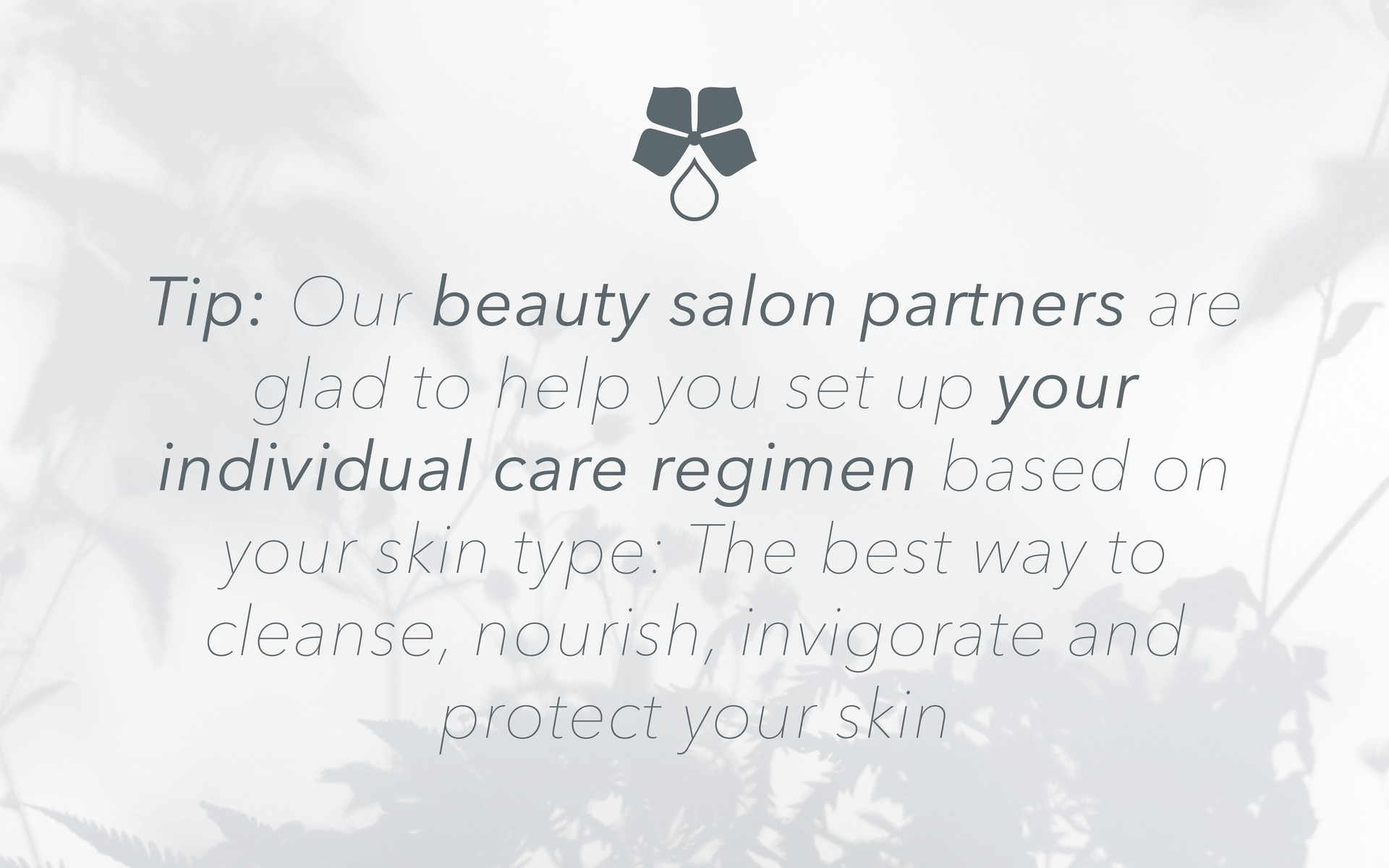 FIND YOUR NEAREST CHARLOTTE MEENTZEN COSMETICS STUDIO