Kosmetikstudio "Harmonie" in Germaringen
Kosmetikstudio "Harmonie"
Willkommen in meinem Kosmetikstudio Harmonie.
Ich bin Svetlana Seitz und behandle & berate Sie gerne in meinem Kosmetikstudio. Seit 2004 arbeite ich als geprüfte Fachkosmetikerin in meinem gemütlichen Studio. Als Visagistin habe ich mich 2015 weitergebildet und kann Ihnen einige Beauty Behandlungen anbieten. Ich lade Sie herzlich in meinem harmonischen Studio ein. Dort können Sie bei einer privaten Atmosphäre entspannen und genießen. Gerne berate ich Sie welche Behandlung, die richtige ist, welche Wirkstoffe und Produkte für Ihren Hauttypen die beste Wirkung erzielt. In meinem Studio biete ich eine Vielzahl an Behandlungen an, von Klassischer- bis zur Teenager-Behandlung finden Sie einiges bei mir. (Die Teenager Behandlung ist eine Gesichtsbehandlung mit entzündungshemmender, antibakterieller, reizlindernden Wirkstoffen.) Außerdem finden Sie ein großes Sortiment an Gesichts-& Körperprodukten in meinem Studio Erleben Sie eine innere Harmonie und nehmen Sie nach einer wohltuenden Behandlung ein positives Lebensgefühl mit nach Hause. Ich freu mich auf Ihren Besuch. Ihre Svetlana Seitz
Kosmetikstudio "Harmonie"
Ziegelring 17
87656 Germaringen
Di, Mi, Do von 08:30 bis 18:00 und Fr von 08:30 bis 17:00. Montag ist Ruhetag.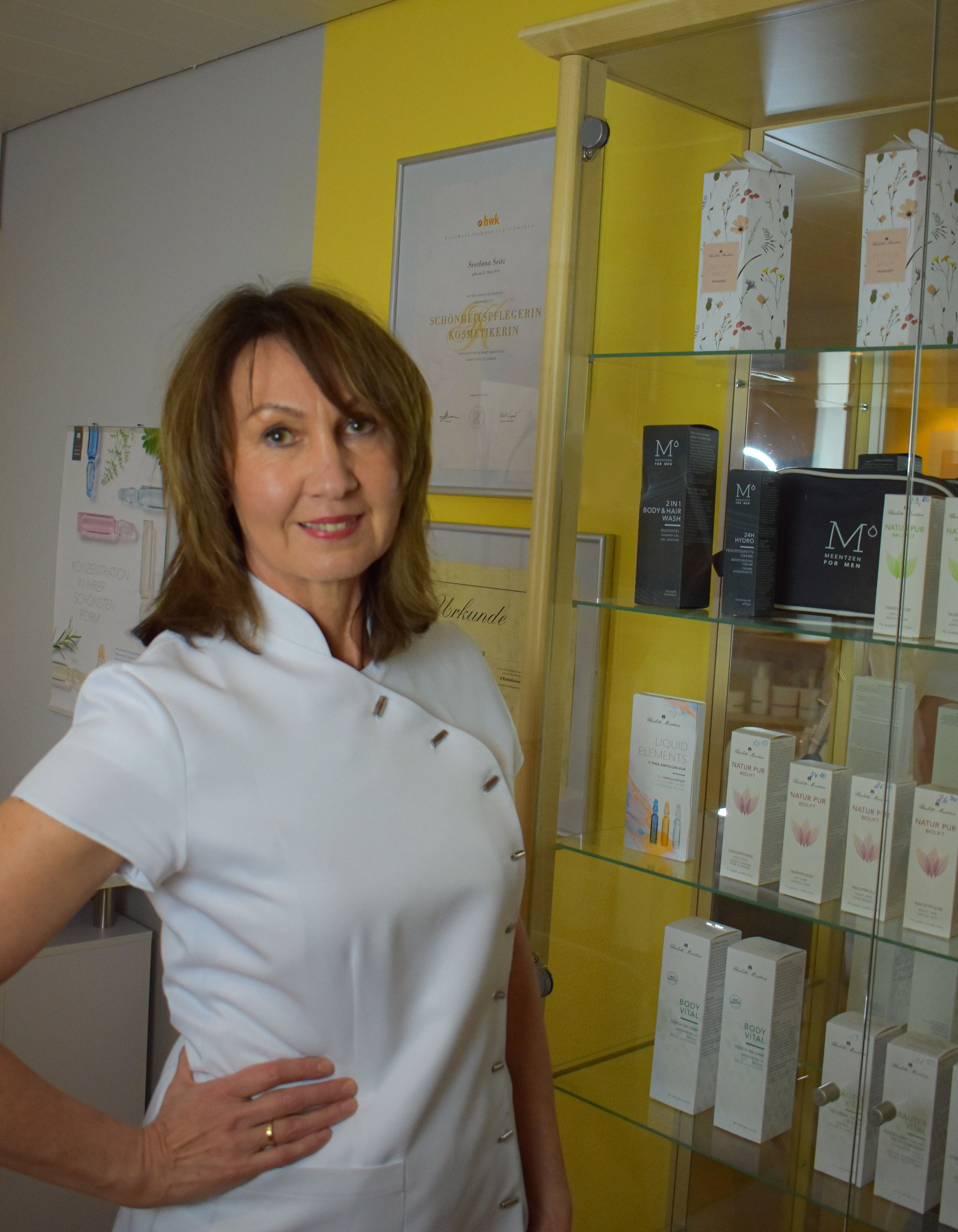 Svetlana Seitz
geprüfte Fachkosmetikerin & Visagistin
Voucher for selecting your personal cosmetician
Support your cosmetician 
and profit from a voucher for your next order and register for the newsletter.
Choose as personal cosmetician
Terms
Your Advantages On Location
Competent advice


Find the best fitting product





Protect the environment


Buy your products locally and save delivery time and costs.
Kosmetikstudio "Harmonie"
Ziegelring 17
87656 Germaringen
This functionality requires cookies from Google. You have not agreed to the use of those cookies.