Body Vital Body Balm | Body Vital | Product Ranges | Body | Products
Body Vital
Body Balm
without von mineral oil components, silicones und PEGs

vegan
200 ml
Content 200 ml
(Base price 77.00 € / 1l)
Product Code: 3308
incl. vat excl. shipping cost
Available for delivery within 1-2 working days
Free shipping from 49.00 € *
Body Vital Body Balm
by Charlotte Meentzen
This pleasantly soft balm with its silky texture quickly blends into the skin. Aloe vera extract replenishes dehydrated skin. Almond butter and avocado oil leave skin feeling smooth and supple and help to retain moisture. Vitamin E acts as a radical catcher and prevents premature skin ageing. The delicate texture is quickly absorbed without leaving any residue and leaves skin feeling relaxed and well-nourished.
Reviews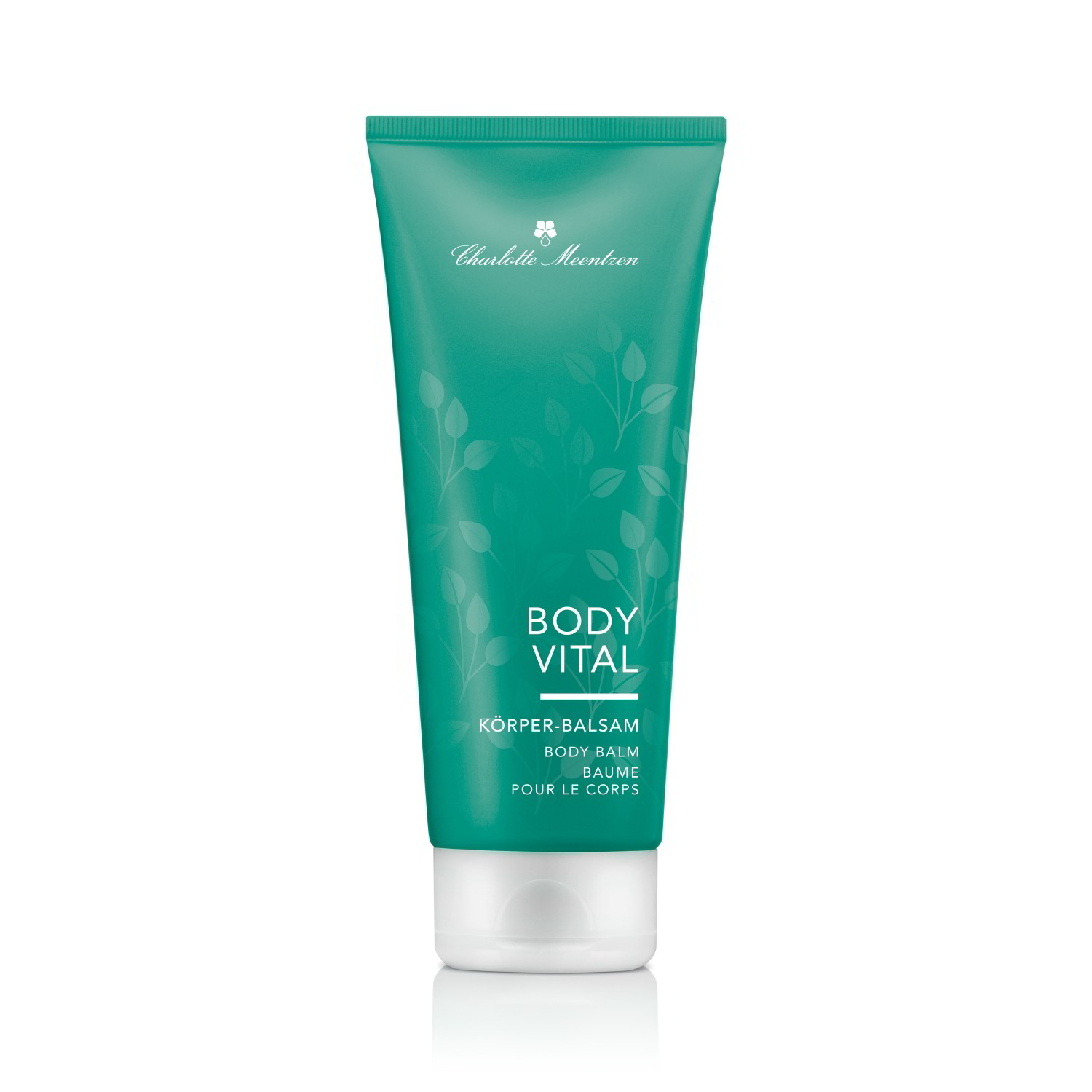 Body Vital
Body Balm
5.0
This product has 5.0 of 5 stars.
We collected 2 reviews.
Angelika S.

Verified Buyer

Reviewed on Oct 24, 2023

Erfrischend

Usage Duration:

Less then a Month

eine erfrischend, angenehm duftende Lotion, die schnell einzieht

Ursula S.

Verified Buyer

Reviewed on Oct 15, 2023

Körperbalsam

Usage Duration:

1 - 6 Months

Dieser Körperbalsam hat einen sehr angenehmen Duft, durch die leichte Textur läßt er sich sehr gut auftragen, die Haut erhält sofort Feuchtigkeit und ist wunderbar entspannt. Besonders in den Sommermonaten super angenehm, durch den kühlenden Effekt.
We also recommend:
Body Vital
Body Cream
(Base price 87.60 € / 1l)
This enriched body cream pampers dehydrated skin with selected oils and precious almond butter. Witch hazel distillate has anti-inflammatory and astringent effects. Provitamin B5 provides the skin with intensive moisture and prevents it from drying out. Special active ingredients improve skin tone and elasticity. Leaves skin looking visibly firmer with a more even complexion. Helps the skin to regain its tone and suppleness. The soft texture is quickly absorbed by the skin and leaves it feeling silky-smooth.
Body Vital
Décolleté Cream
(Base price 245.33 € / 1l)
An effective, regenerative care cream with almond butter that pampers the delicate skin on the neck and décolleté. High quality avocado oil smoothes the surface of the skin. A moisturizing complex as well as vitamins A and E leave skin feeling firm and refreshed. Extracts of horsetail and witch hazel improve skin elasticity. Helps to reduce lines and wrinkles. Leaves skin looking silky-smooth.
Body Vital
Hand-Balm
(Base price 158.67 € / 1l)
This Hand Balm provides intensive skincare, is quickly absorbed and leaves rough and worn out hands looking firm and supple again. Almond butter soothes the hands and helps to smooth out chapped and irritated skin. Provitamin B5 and marigold provide intensive moisture. Also helps to prevent premature signs of ageing skin. Leaves your hands feeling much softer and smoother.