Enjoy
Body Lotion
without von mineral oil components, silicones und PEGs

vegan
250 ml
Content 250 ml
(Base price 53.60 € / 1l)
Product Code: 253
incl. vat excl. shipping cost
Available for delivery within 1-2 working days
Free shipping from 49.00 € *
Enjoy Body Lotion
by Charlotte Meentzen
The refreshingly light lotion has a special moisturizer complex that provides the skin with intensive moisture all day long. High quality avocado oil leaves skin feeling soft and supple. Light reflecting pigments give the skin a gentle sheen for a beautiful and radiant complexion. The invigorating freshness of grapefruit beguiles the senses. Leaves skin feeling smooth and silky-soft.
Reviews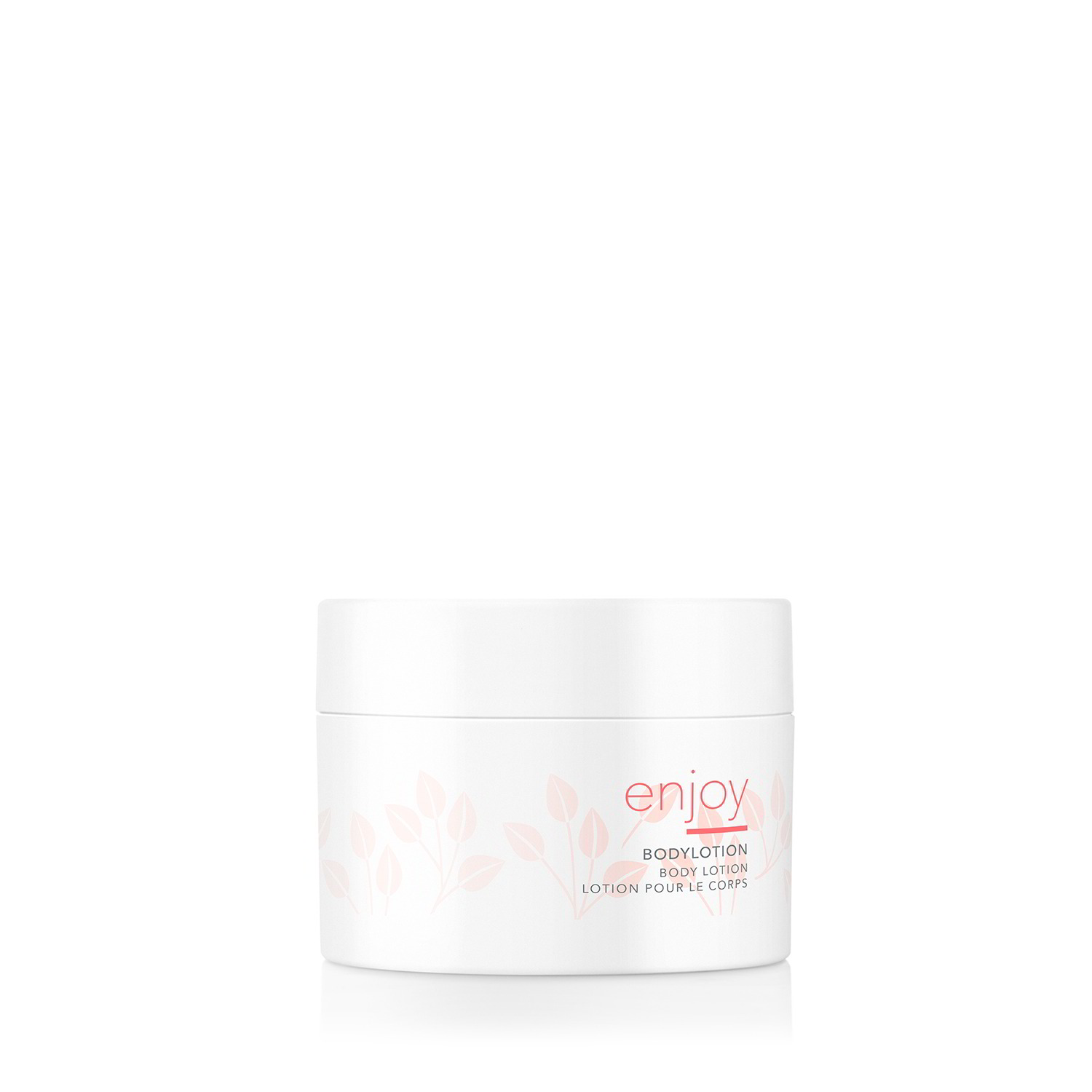 Enjoy
Body Lotion
5.0
This product has 5.0 of 5 stars.
We collected 4 reviews.
Chris

Verified Buyer

Reviewed on Aug 10, 2023

Wohlfühlen

Usage Duration:

1 - 6 Months

Duftet wunderbar und pflegt sehr gut

Nicole R.

Verified Buyer

Reviewed on Aug 4, 2023

Ich liebe sie 🥰

Usage Duration:

Less then a Month

Ursprünglich hatte ich sie als Probe in einer meiner Bestellungen und war da schon total begeistert. Der Duft ist total lecker. Sehr ergiebig, zieht dennoch schnell ein und hinterlässt eine zarte Haut.

Anonym

Verified Buyer

Reviewed on Jul 17, 2023

Sommerpflege für die Haut

Es ist einfach die ideale Sommerpflege für die komplette Haut; schön pflegend und trotzdem leicht und mit einem wunderbaren Duft.

Isabell G.

Verified Buyer

Reviewed on Jun 29, 2023

Tolle Bodylotion!

Skin Type:

Normal to Combination Skin

Usage Duration:

More then 6 Months

Frischer Sommerduft, zieht schnell ein, leichter Schimmer auf der Haut! Ich habe die Bodylotion schon oft verschenkt - kam immer gut an!
We also recommend:
Enjoy
Moisturizing Care for Day and Night
(Base price 214.00 € / 1l)
This light moisturizing cream is absorbed immediately and doesn't form a greasy film. lt treats the skin to the incredible freshness of grapefruit extract. The skin is smoothed and softened, and the revitalising fragrance seduces the senses. This cream has beautifully light consistency that makes it perfect to wear as a day cream under make-up, or as a night cream for wonderfully radiant skin when you wake.
Enjoy
Shower Gel
(Base price 60.50 € / 1l)
This clear shower gel gently and thoroughly cleanses the skin. Lubricating and conditioning ingredients protect the skin from drying out. Alleviates skin redness and irritations. The invigorating and tangy scent of grapefruit leaves skin feeling pleasantly refreshed.
Enjoy
Sugar Body Scrub
(Base price 78.00 € / 1l)
Crystallized organic cane sugar from Brazil, jojoba oil and vitamin E rounded off with the vitalizing scent of grapefruit. This innovative texture gently removes dead skin cells and helps to shed excess flaky skin. Precious oils nourish the skin while vitamin E helps it to retain moisture and smoothes the surface of the skin. The invigorating freshness of grape fruit beguiles the senses. Leaves skin feeling silky-soft and gives it an even appearance.